Joint replacement
We perform joint replacement surgeries that involve surgical methods in which the damaged joint is replaced with artificial implants that give relief from chronic pain, stiffness, and restricted mobility
Pain Management
Our best orthopedic practice in Kphb strives not only to relieve pain but also to improve quality of life by reducing the effect of chronic pain on regular activities and mental health.
Arthritis
Arthritis is a common issue caused by the gradual breakdown of cartilage in the joints. As we age, this cartilage wears away, leading to knee pain and discomfort. Now, with the help of our medical specialist at ortho 360, you can put an end to these difficulties.
Knee & Hip
People commonly face knee and hip pain as they grow older. In some cases, excess weight can be a reason for hip pain. With increased knowledge and technology, many non-surgical methods for relieving hip and joint pains have now become available at our hospital.
Spine
The spine is the vital part of our body that gives support; if it is damaged, it will create severe discomfort. Our doctor will help you diagnose and treat problems related to the spine, such as herniated discs, spinal stenosis, scoliosis, etc. Early detection can assist you in avoiding problems and living a happy life.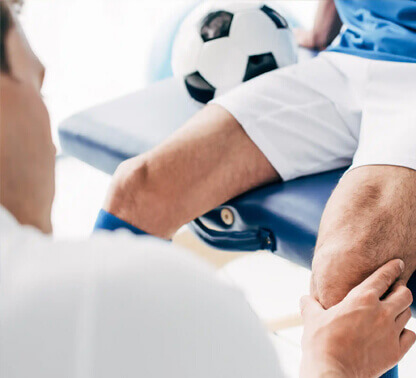 Sports Medicine
Athletes and other sportspeople commonly face fractures that steal their potential and hinder their progress. Our doctor, Karthik Telagareddy, specializes in treating sports injuries that will help them get back on track.
The harder the pain tries to afflict you, the stronger you can fight back with ortho 360 at your aid
Consult our Doctor
08181945945
Schedule a consultation with our ortho 360 doctors to figure out a remedy.
We Offer the best Treatments for all ortho problems
Are you looking for the best orthopedic hospital in Hyderabad ?
Our doctor Kartheek Telagareddy is the best orthopedic doctor with the ability to deliver the latest quality treatment to his patients at an affordable cost. Below are some of his specialties.
Doctor Karteek Telagareddy
 MBBS, MS (Ortho), Consultant Orthopaedic  surgeon.  Specialised in spine, sports Medicine, Trauma and  Joint Replacement surgeon.
Testimonies to promote
healing and hope
I feel extremely happy to see myself walking pain free. Dr Kartheek sir at ortho360 are very friendly, they listen to the patient and get the history of the pain and give the treatment. Thank you ortho360 Advanced Bone and joint clinic.
I was suffering with neck and shoulder pain problem last 3 months then I consulted dr kartheek telagreddy sir with seconds my problem solve single injection good doctor treated very well i am so happy satisfied with the treatment one of the best orthopedic in hyderabad kukatpally.
Good and great experience orthopaedic doctor nice treatment and good medication and follow up also good thanks Dr kartheek sir and thank you ortho360 Advanced Bone and joint clinic.